Rewarding in so many ways
Rewarding in so many ways
Own your own Homefresh Experience Cooking license and help us change your life and the eating habits of our great nation.
With 10 years live testing under my belt there is not much I don't know about the power of this brand and how it works in the minds of consumers.
Today it is not uncommon for customers to walk into my store and ask how they can donate to our cause; this still amazes me.
Homefresh is a first to market retail cooking school and fresh ready meal store solving one of the biggest daily dilemma 'What's for dinner tonight?'.
We are in the fortunate position to have a brand that appeals to the widest demographic possible.
26 million people needing to eat
20 million people cooking
300 thousand babies born each year (new customers)
3 million school aged children
350 thousand NDIS participants
There is no shortage of customers Homefresh can help.
We are well placed to service Australian consumers; we have created a niche that did not exist in the market and it has confirmed to us that experience-based retail is the future of retail.
We are extremely proud of what we have created especially our focus on making Homefresh affordable for all families. Our next challenge is making Homefresh accessible to all Australians and this is where we need your help.
We have three business opportunities, if you would like to be considered for one please register today: www.homefreshcooking.com.au/contact-us/
These business opportunities are a licenced product not a franchise.
Our licence in a nutshell:
5-year licence to operate a Homefresh store and the use of all intellectual property (with a first right to renew)
A fully fitted out retail store in a major retail hot spot
All appliances and equipment needed, ready to cook
Customers booked in before you open
Free training before you start
Who will this offer suite?
A silent investor – Homefresh management will set your store up to run under its own management structure and oversee its performance ($27K management fee per year)
A business leader/owner – to run/oversee their own store with their own team
Owner operators – skilled cooks, business owners or mums and dads that can cook (like I was) great people skills required and full training provided
What does a license cost?
$200,000 for the 5-year license
→ $157,000 for the licenced premises
→ $18,000 rent guarantee
→ $25,000 working capital to start
No entry Franchise fee (not a franchise)
No ongoing Franchise type fee
Free training (travel and accommodation is at your expense)
4 percent royalty paid on gross turnover, paid monthly
What return could I reasonably expect over 5 years (estimate only)
Based on the above opportunities we anticipate a return of:
Silent investor – money back plus profit above $500k
Business owner – money back plus profit above $750k
Owner operator – money back plus profit above $1M
Why Homefresh is not a franchise
I truly believe most franchisors make more money than you, and you do all the work, I know because I have been there and it did not end well!
Homefresh is not a franchise because I don't want you to start behind the 8 ball, you pay no entry franchise fee, you should not pay a levey for working hard, you pay no ongoing franchise type fees ever, you should not have to pay to learn how to help grow the brand you will be helping, you pay no training fees and you should not have to pay a fee on every thing you use growing someone elses brand, you have no requirement to buy food ingredient from your head office, your free to focus of delighting your new customers
You should pay a small fee to use a system that has had hondereds of thousands (possibly more) spent developing it and we will love paying a small fee (4% royalty) that delivers customers to your doors
You will receive a fully fitted out retail store in a key retail hot spot fully equipped to start cooking with all lease and terms negotiated on your behalf and paid customers booked in before you even open.
You can opt to have your car decaled for $1500 or Homefresh can link you up with one of our car supply partners to sell you an appropriate branded car for less than $15,000 dollars (or you can tap into our fleet discounts on new or used cars )
If you or someone you know loves kids, loves to cook and sell, is a great people's person with a huge empathetic heart, I would love to hear for you today, call stephen on 0466158453 or email stephen@homefreshexperience.com.au to register your interest
Video here www.facebook.com/homefreshexperience/videos/390074462569080
Coming to a shopping centre near you soon!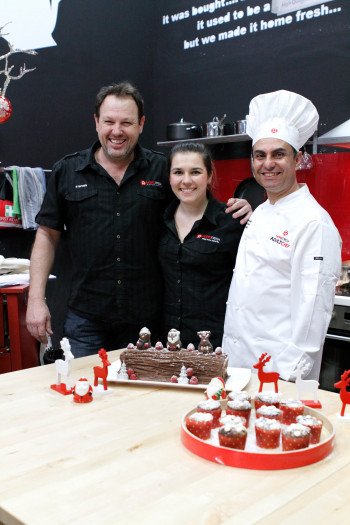 ENQUIRE ABOUT A TERRITORY TO SUIT YOU