Unique business opportunity awaits the right person - could this be you?
Unique business opportunity - second loacation South of Adelaide now available
Homefresh's Flagship store Golden Grove (SA) is now in full swing for you to see firsthand if this opportunity is for you
What is Homefresh
Homefresh is an innovative new retail brand creating interactive retail experiences and bringing customers back to bricks and mortar stores and shopping centres.
Homefresh is a kids/Adult retail cooking and shopping experience school, a ready meal store and a mobile chef business conducting cooking experiences in-schools, in other shopping centres, in-homes and in fact anywhere a customer wants a unique and tailored cooking event hosted
Homefresh is providing a uniqe service to many NDIS funded customers and is perfectly placed to own this market segement
What do you receive?
Brand new store fully fitted out and cooking experiences lined up for your to build on using your personality
Branded car to market your location, the Homefresh brand and ready to for your mobile events
Full training in a live store (Golden Grove)
Start-up recipes and a base retail meal offer covering, senior, kids and adult ready cooked meal
Unique business model – Homefresh is not a Franchise
Homefresh will help you build your business your way using our cooking experiences and ready meal offer
What will it cost you to secure this unique business opportunity
$130,000 is your full investment and this incudes, fully fitted out store, branded car and all equipment ready to start cooking
First to market commercial children's and adults retail cooking brand and ready cooked meal store
Homefresh is a first to market privately owned commercial scale children's and adults cooking school business. In our trials in South Australia, the demand for children's cooking classes outstripped our capacity in three different socio-economic demographics. Cooking with kids is an emerging market we now know has huge potential; We know this from the direct feedback we continue to receive from the many thousands of families we have already attracted. Australia has just over three million school aged children and many NDIS funed customers Homefresh is perfectly placed to provide services to, this will ensure Homefresh's growth prospects are ongoing.
National expansion
Homefresh is highly recognised in South Australia in this undersupplied market segment and is set to become the national leader in providing fun educational cooking experiences for kids and adults alike, operating a local ready cooked meal offer has unlimitted potential
As a HOMEFRESH store owner you can enjoy many benefits including:
Owning a unique business with minimal competition
Owning a dedicated cooking school store in a key retail hot spot
Owning an exclusive territory
Being in a business that is not easy to replicate on-line
Representing a much loved, recognised and respected brand
Having a very supportive and experienced brand leader to help drive your business start-up
Peace of mind knowing that Homefresh is supported by industry leading service providers
Comprehensive training, we hold your hand until you're ready to go live
Receiving pre-booked and paid clients before you open
Simple administration, you have no supliers to deal with
Free marketing from the buzz created by the branded junior chefs' shopping activity
Favourable terms from landlords as we attract customers to their centres and they love what we offer them
Being a part of something bigger, become a part of the social fabric of your local community
Training
Stephen Curtis, our Homefresh brand leader is personally responsible for all your training. You will receive comprehensive training, class running sheets, full briefings and you or your team will assist in delivering classes as Stephen leads classes for you initially. He has run the cooking school from inception and is the best person to equip you with the skills to deliver exceptional fun cooking experiences for the kids and adults alike. Our training program is based on perfecting the cooking school format in our three corporate trial stores, and now in our first permanent flagship store where we added the very popular ready meal business
You will learn how to work alongside and lead the children effectively, provide fun and educational adult experiences and how to work safely in commercial and public environments and all aspects of our policies, procedures and established business practices.
Training will include:
How to set up for classes of all types
How to check-in all attendees and maximize customers use of social media
How the chef uniform dress procedures work
How to introduce classes and market upcoming classes
How to work from class run sheets for best results
How to work to set time frames
How to end classes
How to pack down and clean kitchen areas
How to soft sell our partners appliances
How to add value for your customers
If you believe this opportunities is for you, please call Stephen today 0466158453 or email stephen@homefreshexperience.com.au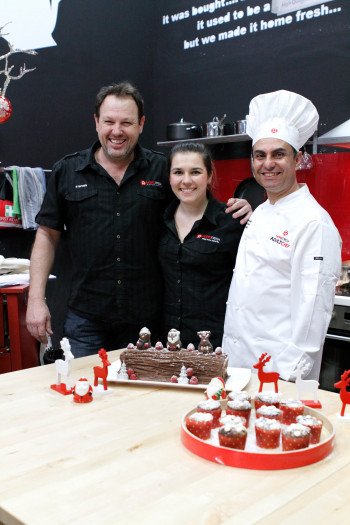 ENQUIRE ABOUT A TERRITORY TO SUIT YOU