Master Franchise and Franchises Available
Why choose a Homefresh Franchise?
Store one Golden Grove now trading and available - Ground Floor Opportunity

(Don't miss this opportunity - Norwood and Central Market Location also - Now Available)
Own Golden Grove store and North East franchise area outright
Kids/Adult retail cooking school and ready meal store, fully fitted out and booking now
$129k including store + branded car + chef's
Offered as a going concern - no GST or sales tax
Other Area Opportunities:
Early settler offer (eastern and western suburbs are prize areas to secure today)
National enquirers welcome
SA/NT and regional locations ear marked, secure the territory you want today
Franchises available from $45,000 based on set, mobile or fixed location
Start cooking today, leads supplied in your area and leads you generate
All mobile equipment (branded car included in $129,000 franchise packages)

Permanaent

store location sucured in your teritory for you if desired
Some kitchens are hotter than others
Call Stephen today or e-mail stephen@homefreshexperience.com.au
Homefresh is redefining retail
Many retail economists and analysts agree that experienced based retail is the future of bricks and mortar retail, they also highly recommend combining seamless on-line and instore experiences as the most powerful combination, Homefresh has both. The Homefresh business model combines engaging on-line interactions and innovative in-store customer experiences and we believe we are at the forefront of this retail rejuvenation. The customer can purchase our experiences online then they have to come into the store to be part of (experience) the event.
Social engagement, online booking and payment
Homefresh has a dynamic social media presence which creates a feel-good energy for the brand and steers customers to our sophisticated on-line booking and payment portal. This ensures customers book and pay in advance, assisting the franchise to control cash flow and expenses, and in addition provides a steady stream of customers straight to the franchise and retail hot spots doors.
First to market commercial children's and adults cooking franchise
Homefresh is first to market in commercial scale children's and adults cooking franchises. In our trials in South Australia, the demand for children's cooking classes outstripped our capacity in three different socio-economic demographics. Cooking with kids is an emerging market we now know has huge potential; We know this from the direct feedback we continue to receive from the many thousands of families we have already attracted. Australia has just over three million school aged children and this will ensure Homefresh's growth prospects are ongoing.
National expansion
Homefresh is highly recognised in South Australia in this undersupplied market segment and is set to become the national leader in providing fun educational cooking experiences for kids and adults alike.
As a HOMEFRESH franchise owner you can enjoy benefits including:
Owning a unique business with minimal commercial sized competition
Owning a dedicated cooking school store in a key retail hot spot
Owning an exclusive territory including all schools and mobile events within it
Being in a business that is not easy to replicate on-line or in-store
Representing a much loved, recognised and respected brand
Having a very supportive and experienced brand leader to help drive your business start-up
Peace of mind knowing that Homefresh is supported by industry leading service providers
Comprehensive training, we hold your hand until you're ready to go live
Receiving pre-booked and paid clients
Administrative support, including online ticket sale collection and regular weekly payments arriving ahead of expenditure
Free marketing from the buzz created by the branded junior chefs' shopping activity
Favourable terms from landlords as we attract customers to their centre
Being a part of something bigger, changing the eating habits of a nation
Training
Stephen Curtis, our Homefresh brand leader is personally responsible for all your training. You will receive a comprehensive training manual, class running sheets, full briefings and you or your team will assist in delivering classes as stephen leads classes for you initially. He has run the cooking school and is the best person to equip you with the skills to deliver exceptional fun cooking experiences for the kids. Our training program is based on perfecting the cooking school format in our three corporate trial stores.
You will learn how to work alongside and lead the children effectively, how to work safely in commercial and public environments and all aspects of our policies, procedures and established business practices.
Training will include:
How to set up for classes of all types
How to check-in all attendees and maximize customers use of social media
How the chef uniform dress procedures work
How to introduce classes and market upcoming classes
How to work from class run sheets for best results
How to work to set time frames
How to end classes
How to pack down and clean kitchen areas
How to soft sell our partners appliances
How to add value for your customers
Homefresh Franchise opportunities - entry levels available?
We have three entry level franchise opportunities available.
Hands on Owner Operator
This opportunity is for an owner operator who will be involved in the day to day running of one Homefresh Cooking store including, as one of the chefs, running the classes. Once they have established themselves successfully in one store they may then be considered for another/more store(s).
Business owner
This opportunity is for a business owner with a proven track record for successfully operating multiple businesses and building highly skilled teams
Master Franchisee
This opportunity is for a highly skilled and proven business owner with a demonstrated and proven track record in building a franchise from the ground up or running a significant established franchise operation. This opportunity is reserved for a person wanting to focus entirely on building a Homefresh state and owning the rights to operate in an entire state/territory of Australia and potentially beyond, or a highly skilled business owner wishing to add another brand to their portfolio.
If you believe this opportunity is for you, call us today!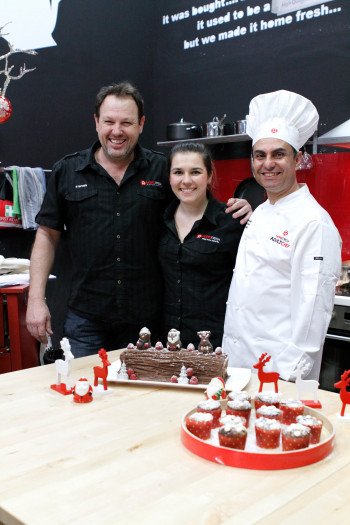 ENQUIRE ABOUT A TERRITORY TO SUIT YOU